What is the Pectus Clinic
The pectus clinic is a specialised clinic led by Mr Ian Hunt, an experienced thoracic surgeon that deals with all aspects of chest wall and pectus problems from diagnosis, investigation and treatment. Working with other specialist's including bracing experts, it is the only such clinic in the UK that brings together all aspects of chest wall deformities and pectus together under one clinic.
The Clinic is run at Spire St. Anthony's Hospital and appointments can be made through the enquiry team at Spire, through the pectus team. Alternatively, an NHS appointment can be requested by your GP or consultant to Mr Hunt at St. George's Hospital.
Profile
Mr Ian Hunt
BSc (Hons) MBBS MRCS FRCS (CTh)
Consultant Thoracic Surgeon
Mr Hunt is a Consultant Thoracic Surgeon and Clinical Lead at St. George's Hospital, London and at Spire St. Anthony's Hospital as well as Honorary Consultant at the Royal Marsden Hospital, London
Education & Training
Graduating with distinction from University College London (UCL) Medical School Mr Hunt completed his surgical training at the Hammersmith, St. Thomas' & Guy's and Harefield Hospitals. He was awarded a national travel scholarship and completed a minimal access thoracic surgery fellowship in Canada and the USA prior to joining St. George's Hospital in 2009.
Employment & leadership roles
Mr Hunt is a Consultant Thoracic Surgeon and Clinical Lead at St. George's Hospital, London and Honorary Consultant at the Royal Marsden Hospital, London. He is an Honorary Senior Lecturer at St. George's Medical School, University of London and is actively involved in clinical research, training and education at undergraduate and postgraduate level. He regularly mentors consultant surgical colleagues from the UK and Europe in advanced chest keyhole techniques and treatment of pectus and chest wall problems. He leads the cardiothoracic trauma service at St. George's Hospital, regarded as one of Europe's premier major trauma centres and home of 24hours in A&E (Channel 4 productions). He currently sits on several expert advisory boards.
Membership of professional societies
Full General Medical Council (GMC) registration
Fellow of Royal College Surgeons of England (RCS)
Society of Cardiothoracic of UK & Ireland (SCTS)
European Society of Thoracic Surgeons (ESTS)
British Orthopaedic Sports Trauma & Arthroscopy Association (BOSTAA)
Chest Wall International Group (CWIG)
Cardiothoracic Surgery Network (CTSNet)
Teaching & Research
Mr Hunt lectures at local, national and international conferences and teaches on many courses, webinars and symposiums. He has written over 170 papers and publishes regularly in peer reviewed journals, has authored over a dozen book chapters as well as editing a handful of medical textbooks. The Pectus Clinic and Mr Hunt are actively involved in research and the Pectus Clinic is happy to share some of our Results.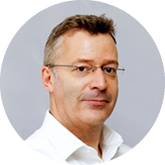 Services offered:
Diagnosis
Mr Hunt will fully evaluate your chest wall problem and confirm your pectus deformity, including the latest topographical 3D assessment of the chest. In most cases that is all that is required.
If further evaluation is needed, the Pectus Clinic works with some of the top specialist Plastic (cosmetic), Orthopaedic spinal and upper limb surgeons in the UK, as well as expert cardiologists and lung clinicians based at St. George's and Spire St. Anthony's Hospitals.
The Pectus Clinic also works with some of the UK's leading Geneticists if genetic screening is felt necessary.

3D topographical scan of a 30-year old man with a severe right-sided asymmetric pectus carinatum deformity prior to bracing treatment
Investigations
Following the full clinical evaluation in many cases no further investigations are required. However, if required appropriate further tests will be requested including musculoskeletal and cardiovascular investigations such as MRI, chest CT, lung function, exercise tests and echocardiography.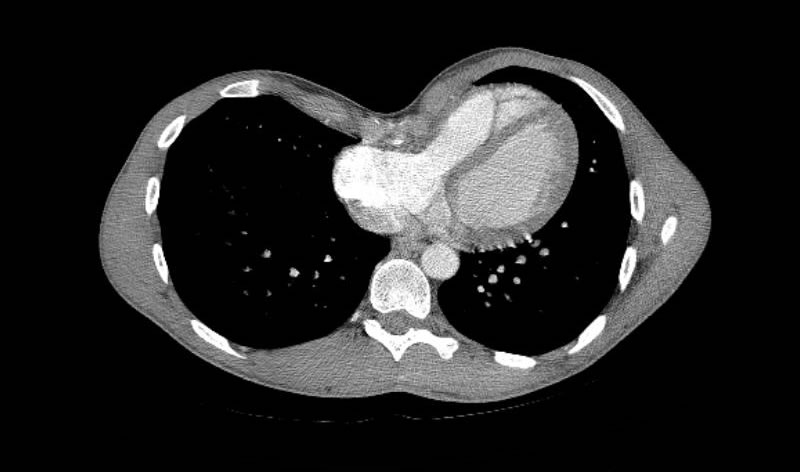 Chest CT scan of a young man with a severe pectus excavatum deformity with significant leftward shift and indentation of the heart
Treatment
Depending on the type of deformity and problem the best option will be discussed. The Pectus clinic is unique in being able to offer the latest options including non-surgical treatments such as bracing. Mr Hunt is a leading expert on bracing for pigeon chest and published many articles about bracing treatment for pigeon chest, some of which can be found in our results section.

Patient treated with bracing for his pectus carinatum by Mr Hunt (pictured) taken from an article in the daily mail