Bracing for Pectus Carinatum
Bracing for pectus carinatum is well established in many countries to the point that the American Pediatric Surgical Association recommends it as first line therapy for the compliant pectus carinatum deformity. However, in other countries including the UK expertise in bracing for pectus carinatum remains patchy, with little information or knowledge around its use.
For other types of pectus deformity particularly excavatum the role of bracing appears less obvious and the evidence remains patchy and inconsistent. Bracing or strapping may have some role in helping with rib flaring specifically but its role remains unproven.
We run a very popular bracing clinic throughout the year. It is the largest clinic in the UK and has successfully treated 100's of patients with a custom made pigeon chest brace. After an initial consultation we will assess the most appropriate treatment method for your pectus deformity. Whether it be invasive or non-invasive, we ensure your treatment will be of the highest quality, tailored to your individual needs. For the majority of cases, following measurements including 3D scanning and our unique outpatient procedure to correct the deformity, a custom made brace is fitted and bracing program commenced, that will be all that's needed to restore the ribcage back to a more normal shape.
A bracing system is considered the first line of treatment for pectus carinatum or pigeon chest and is the preferred method to reshape the chest wall.
A video describing the bracing program developed at St Anthony's hospital
As doctors we are ethically obliged only to offer you a brace if it is likely to be successful, age and 'musculoskeletal maturity' are two important factors. The bracing clinic offers a unique aspect to your treatment, that of 'mobilization or manipulation', a form of physical therapy that concentrates on the source of the pectus deformity, the flexible costal cartilages to gently correct the deformity. This technique significant improves on the success rates as well as reducing the length needed to wear the brace when compared to other brace reports.
Following the manipulation, a sleek, lightweight brace is fitted applying pressure to the ribcage holding the breastbone in a normal position and over time allowing the ribcage to 'remodel' for a permanent result. The brace is customized to fit each person for maximum comfort and effectiveness. The brace allows unrestricted arm motion and can even be worn during physical activities (except for some contact sports). For the brace to be effective it must be worn virtually everyday for the first 8 weeks along with daily exercises which will be instructed by your consultant. At around 12 weeks the brace and results are checked and re-adjusted according to the patients needs. At 3 months following our individually prescribed program the brace will be worn less and less frequently for typically a further 3 to 6 months depending on severity. A second rib brace is not needed with this bracing program though a soft flexible rib strap may be.
The pectus bracing program lasts around 8 to 12 months, and we recommend that we see you 2 to 3 times after the first consultation to assess progress, adjust the brace fitting and give advice around reducing the amount of time the brace is worn. Patients, depending on their needs as part of our follow-up pectus program will also go through a customized exercise and physical therapy assessment, evaluation and training program.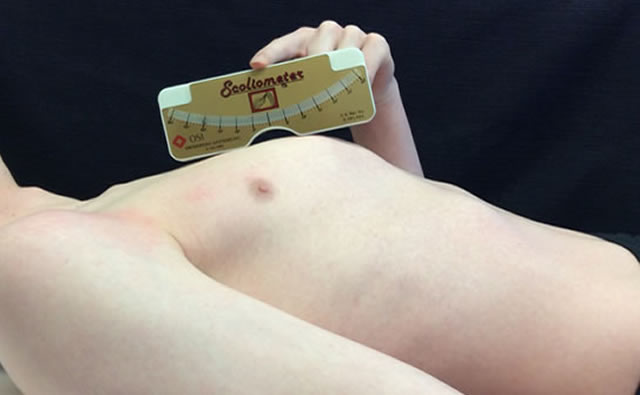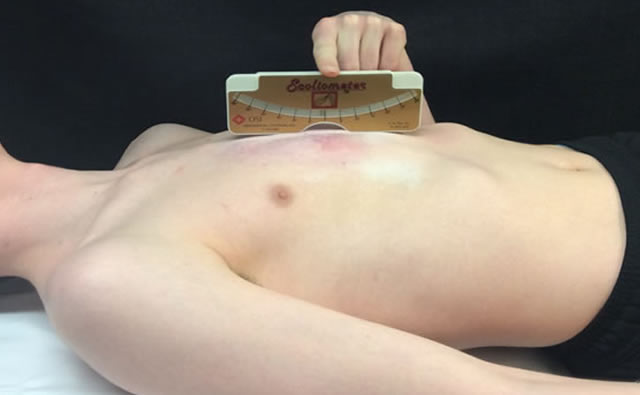 Measurements taken before (top) and 6 weeks after starting a brace program (bottom) for a boy with severe asymmetric pectus carinatum

The low-profile light weight brace used by the Pectus Clinic is custom built on-site following extensive measurements and then re-checked following bracing to guarantee an ideal fit. At further follow-ups, the brace will be altered as the pectus carinatum remodels to give the best long-term results
Summary of external compressive bracing program*
Assessment includes pressure measurement of chest wall flexibility
Individual custom brace made to fit all types of pigeon chest
Fitting of brace includes 'manipulation' (correction) of pigeon chest and custom brace fitting with adjustments
For first 8 weeks brace is worn permanently (off for washing only)
After 8 weeks brace is removed for 1-2 hours each day
After 12 weeks brace is removed increasingly each day
By 24 weeks the brace is worn 12 hours a day only
By week 32 the brace is worn for maintenance only
The brace program finishes after week 40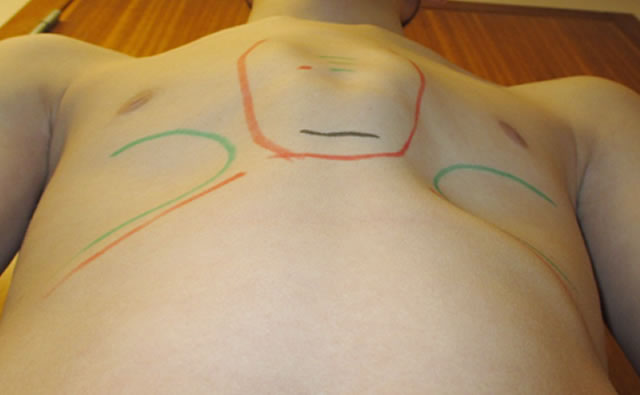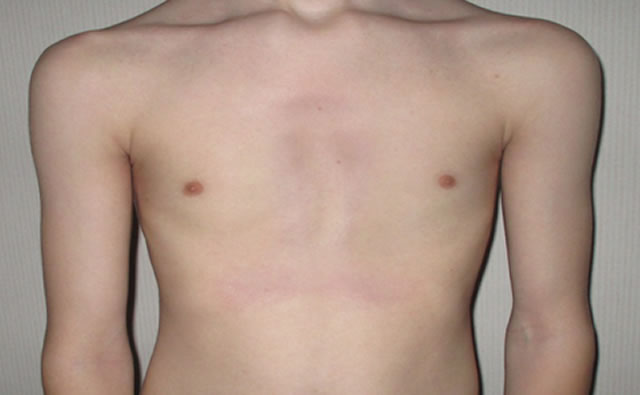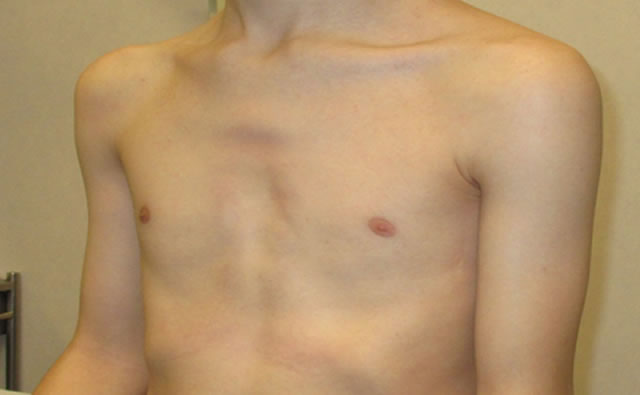 Photos (to the left) showing the initial pectus deformity taken as part of the assessment prior to bracing. The red marks protrusion of the chest wall and the green where the chest is dipping in. To the right, photos 6 months after starting the brace program when the brace is being worn at nighttime only.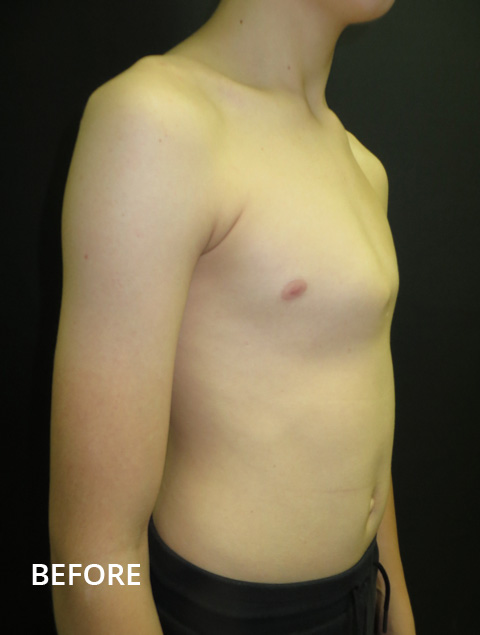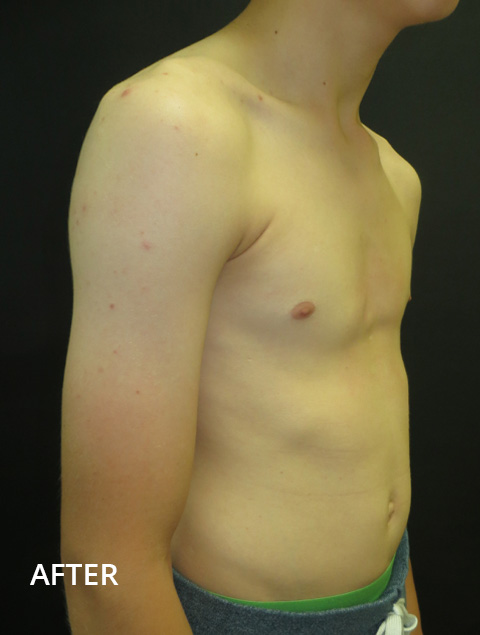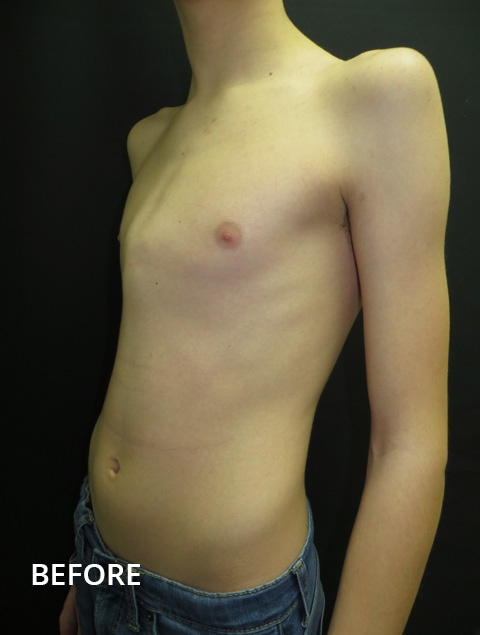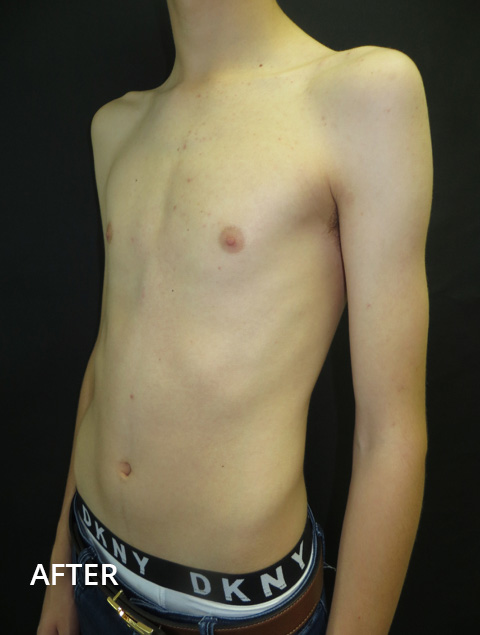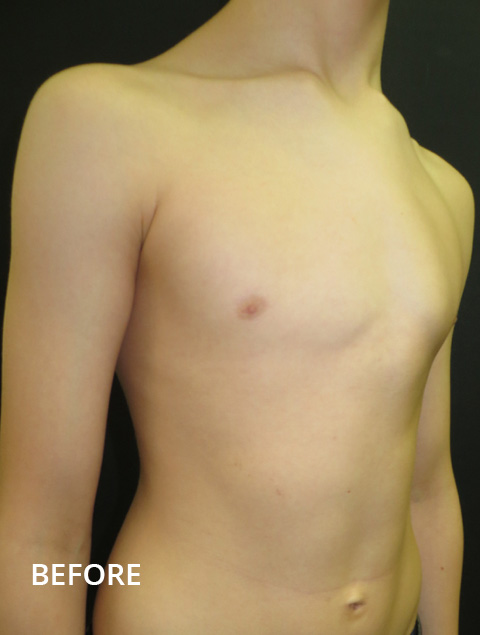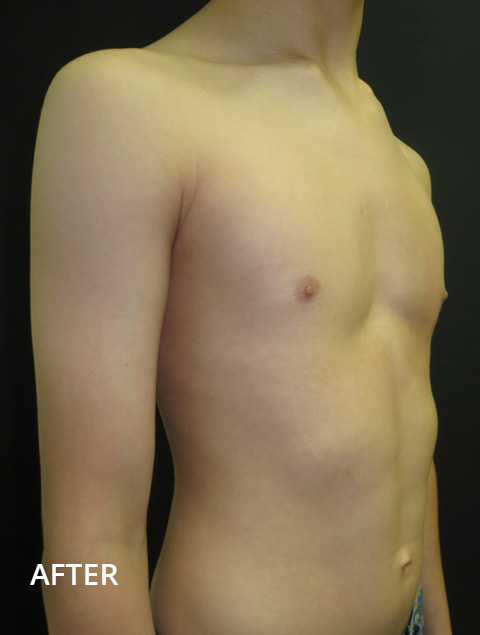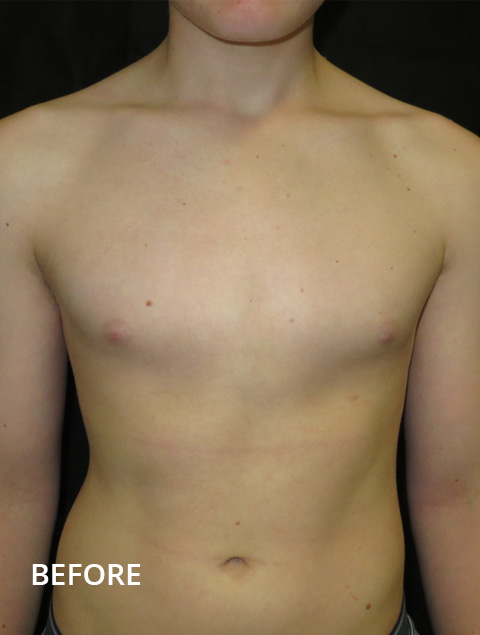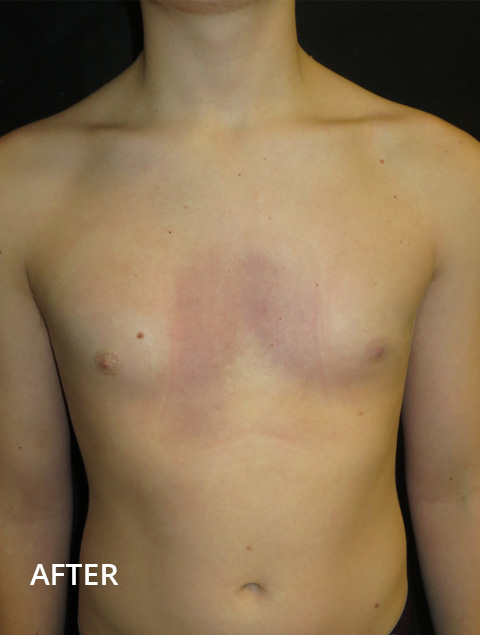 Before and after images shown using the slider (drag central cursor left or right to view) of four patients with pectus carinatum before and 6 months after bracing treatment.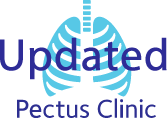 Frequently Asked Questions about external compressive bracing for treatment of pectus carinatum (Pigeon Chest)
Bracing for Rib Flare
Bracing for rib flare is far less established than for compliant pectus carinatum deformities and external bracing, though the principles are the same. The lower rib cage (the costal margin) is made of costal cartilage and like pigeon chest is often very flexible particularly in young patients.
As with bracing for pectus carinatum, rib flare bracing needs a flexible chest. A rib strap strap can be used but if too severe a rib flare brace may be recommended. Following measurements including a scan a rib flare brace is custom made. The rib flare brace is fitted at a separate clinic appointment. It needs to be worn typically for at least 8 hours per day and is usually worn for 9-12 months. It's Important it's used together with specific targeted exercises.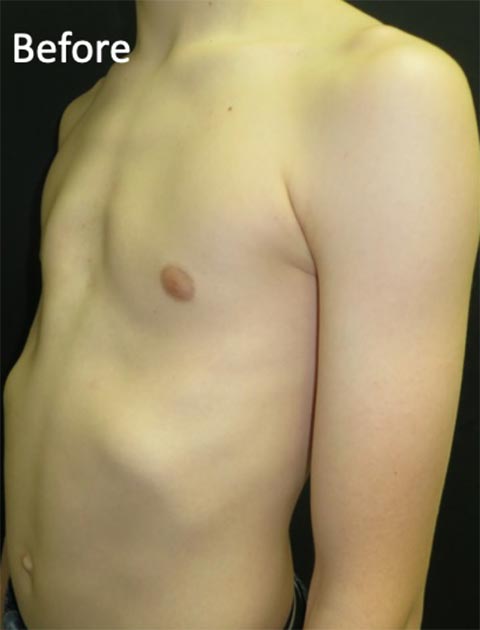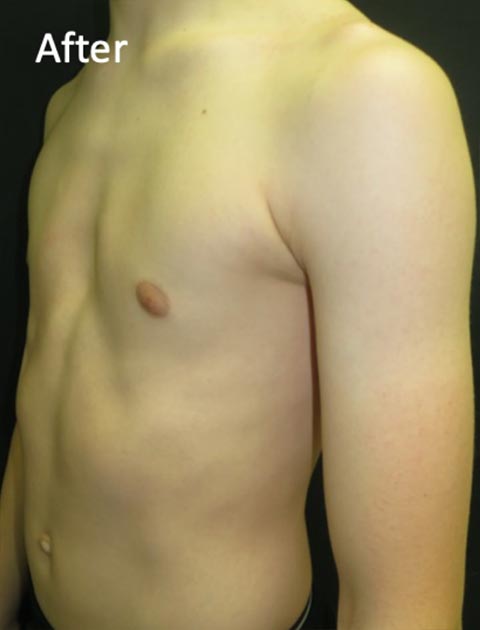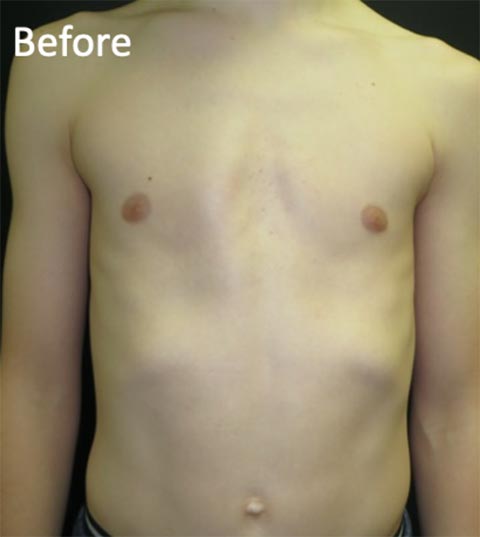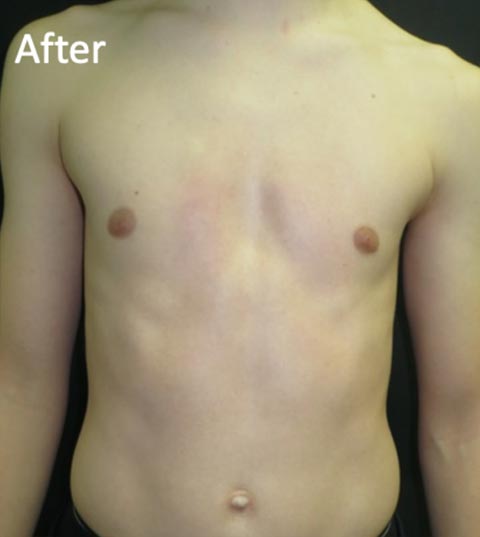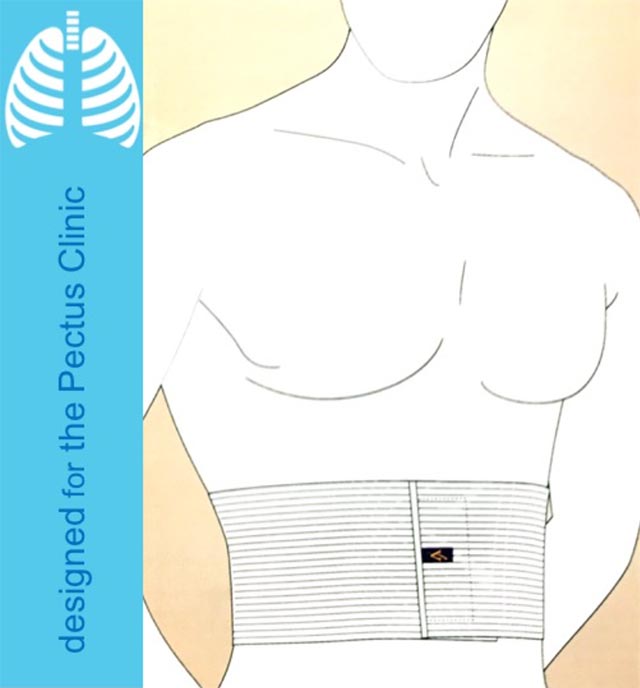 When indicated, a custom-made rib flare strap combined with the pectus brace helps correct rib flare combined with targeted exercises to strengthen the 'core abdominal muscles'.
Patient with a mild pectus carinatum and rib flare before (left) and after (right) treatment with an external brace, a rib flare strap (above) and targeted physical exercises.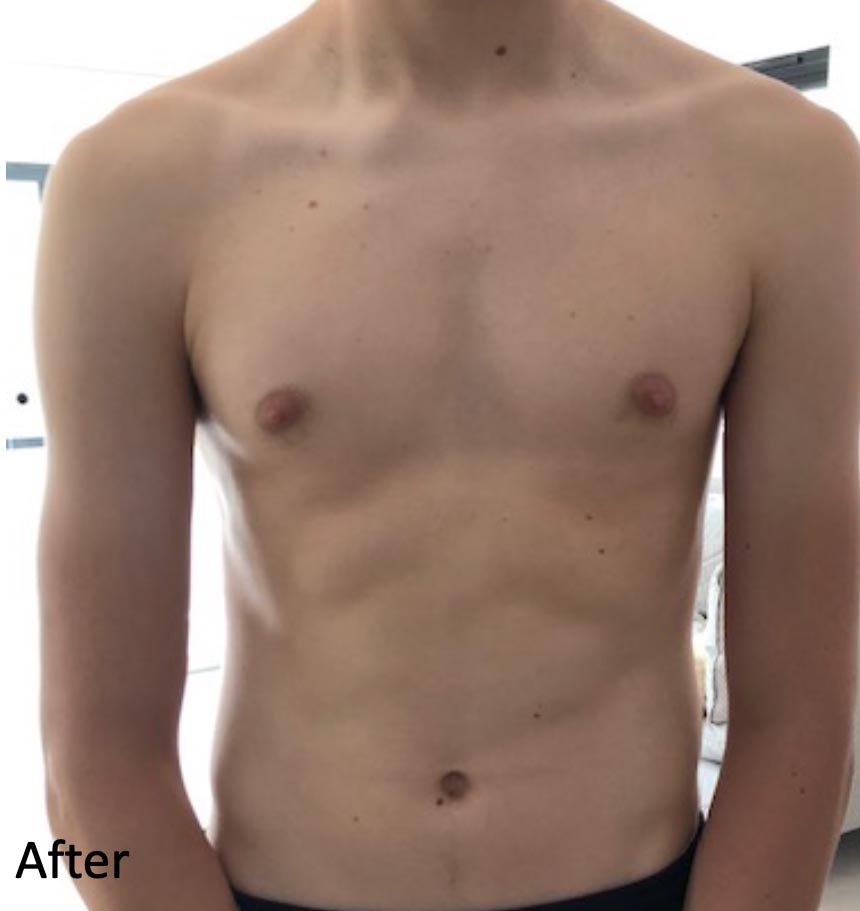 Patient with Pectus Excavatum and rib flare before (left) and after (right) using a rib flare brace worn for around 8 months combined with target core abdominal exercises (shown to right).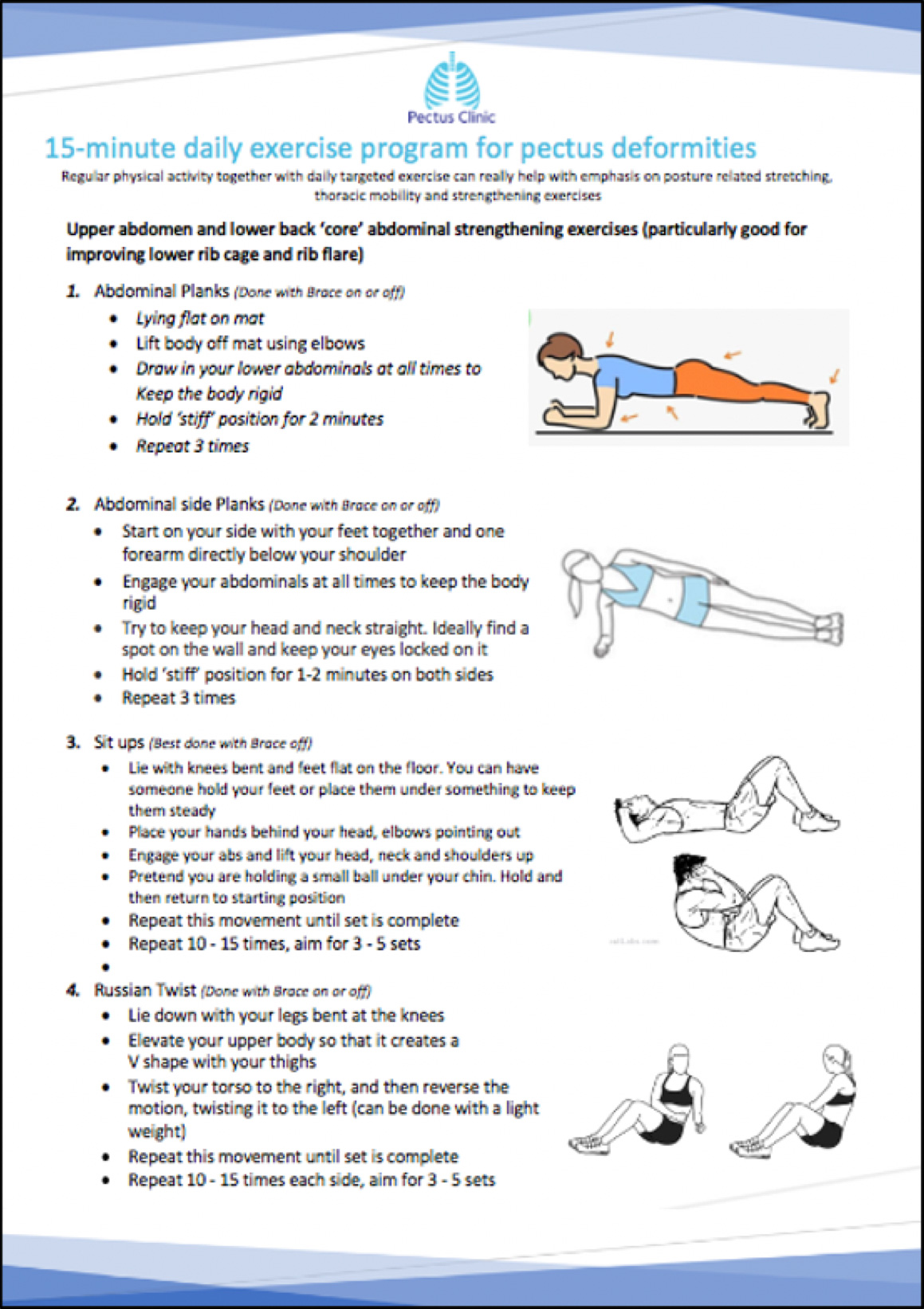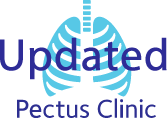 Frequently Asked Questions regarding Rib flare
We take numerous measurements and photos before, during and after bracing treatment as many of the problems we see centre around appearance. With the patient's permission we are happy to share our outcomes.
It is important that we can show evidence that the bracing treatment we offer and the results that we achieve are proven. We actively collect data to allow us to study, research and publish are outcomes.
If you are considering bracing treatment for your Pectus deformity it's important that you have confidence that we provide the best advice and treatment. Many of our patient's have shared their experiences: