Louis and his parents share their story
The Parents story
Our son had started developing Pectus Carinatum (pigeon chest) from the age of eight and by the age off 11 it was clearly visible through his t-shirt and he was extremely self-conscious about it. After being referred to an NHS consultant, we were told that the only choice was to 'live with it' or to undergo major surgery as bracing 'didn't work'. We decided surgery was not an option we were willing to take, so after much research we thought that bracing (following chest manipulation) was the best chance of correcting the problem.
My son was 12 when he was fitted with his brace. As he was so young we were very anxious as to how he would cope with the procedure and deal with wearing a brace constantly. However, we needn't have worried. Ian and Joe were fantastic at reassuring and supporting him through every stage. Although the physical manipulation was uncomfortable, it was a fairly quick procedure and he coped with it really well. The results were instantly visible and quite astonishing. This meant no motivation was necessary – he could see a massive improvement to his chest shape immediately and he didn't want it to go back to how it previously was. This also made him determined to stick to the exercise programme he was set by Joe.
The first few days were the most difficult, uncomfortable but manageable with regular pain relief although it didn't seem to affect his sleep. Within two weeks he was totally comfortable wearing the brace and life was almost back to normal. Occasionally he had some soreness and irritation from the friction of the brace, but this was alleviated with antiseptic cream and medical tape.
We also complemented the treatment my regularly seeing a local physiotherapist. After years of his chest growing incorrectly and his spine and shoulders being twisted and uneven, physiotherapy was essential in easing his muscle tension and supporting the chest manipulation, ensuring his body stayed correctly aligned. We were also given additional strengthening exercises to maintain his changing physical shape.
Within a month he had grown 3cm in height due to the bracing and his overall posture was greatly improved. We are now 6 months in to the programme and he has grown another 3cm and can remove his brace for prolonged periods meaning he is back swimming training, playing football and enjoying having the 'normal' life of a 12 year old. We couldn't have hoped for a more positive outcome from the procedure and it has undoubtedly made a huge difference to both his physical appearance and his self-esteem and confidence. The whole treatment was much more effective and far less difficult than we thought it would be for our son, largely due to the expertise of Joe and Ian. Based on our experience, we cannot recommend the treatment we received highly enough, as it has undoubtedly transformed our son's life.
Gail [Louis's mum, Dorset June 2016]
The Patient (12 year old boy)
My pronounced chest shape made me very self-conscious, especially as a competitive swimmer, where it was very visible so I found myself constantly trying to cover it and keeping my arm across my chest to hide it.
I was really nervous before the treatment as I didn't know what to expect, how painful it would be or whether it would really work. However, once I met Ian and Joe they reassured me and answered all my questions and I started to feel more positive about the treatment.
Although the manipulation was quite painful it wasn't agonising. The gas and air really helped me stay relaxed throughout and eased the pain. Joe talked me through the treatment step by step which kept me calm. At the end of the manipulation, Joe showed me my chest. I couldn't believe the difference, my raised Pectus had all but gone. Joe then fitted my brace and talked us through how to put it on and look after it, when to change the pad covers and the daily exercises I needed to do.
Although the brace felt a bit odd at first, it wasn't uncomfortable. I still felt drowsy from the gas and air and I slept pretty well that first night. The next morning I had a check up with Ian and Joe to make sure everything was OK and the brace was comfortable and fitted correctly before I went home. For the next two days my chest felt sore from the manipulation and it was more uncomfortable, but regular painkillers helped the pain and having extra pillows and a duvet under me made sleeping easier.
By the third day, things had settled down, I was getting used to wearing the brace and was sleeping better. I had the treatment done on a Tuesday and by the following Monday I was back at school. I had told the teachers about having the brace fitted, they were really understanding and helped me settle back into school.
On day five I took the brace off for the first time. My chest was a bit sore where the brace had rubbed, but it looked really good. It actually felt strange having the brace off and I couldn't wait to put it back on! I got into a routine of doing my exercises every day, which was easy as they didn't take long. I also saw a physio who gave me extra strengthening exercises and really helped with any muscle pain and tension. I didn't do any PE at school until my first check up (5 weeks after treatment). After that I did some PE, but nothing too physical as the brace felt a bit restrictive and got too hot to do really challenging exercise.
Six months on and I now have the brace off for up to 4 hours a day, which means I can now do all my sports again. The time I've had to wear it has gone really quickly and I have no regrets going through with the treatment. I feel much more confident and happy with my chest shape and appearance. I would really recommend the treatment to anyone with my condition, as the whole experience has been much easier that I thought it would be and made a huge difference to my life.
Louis [aged 12 years with a moderately severe pectus carinatum deformity 7 months into his bracing program]
1st July, 2016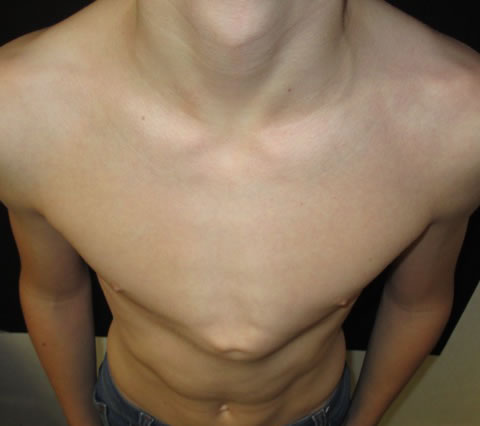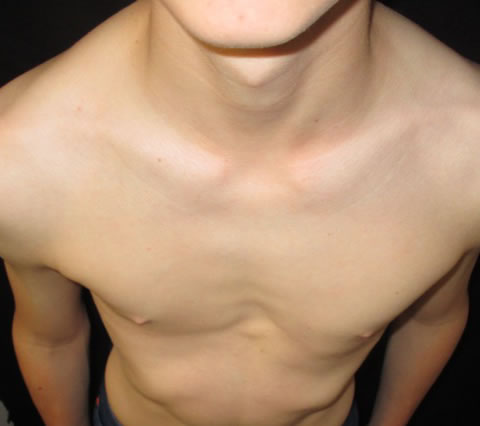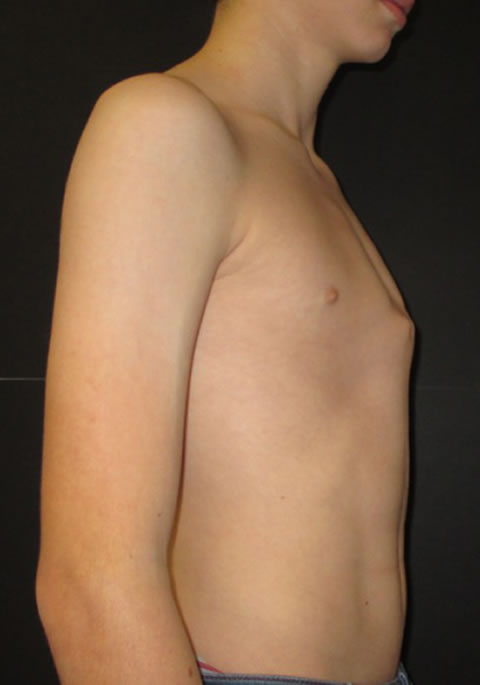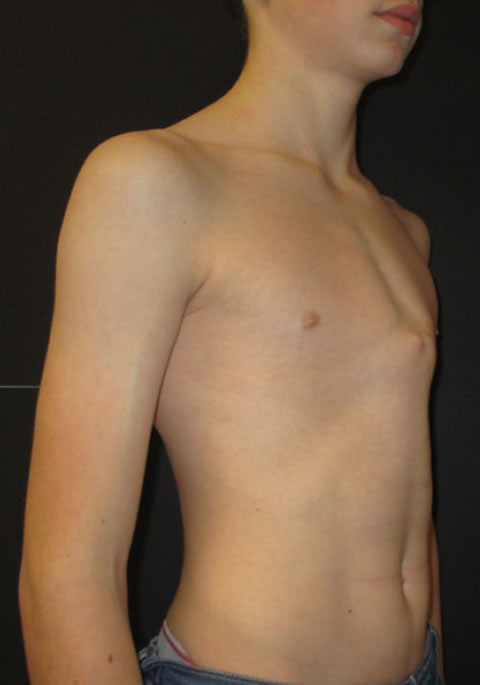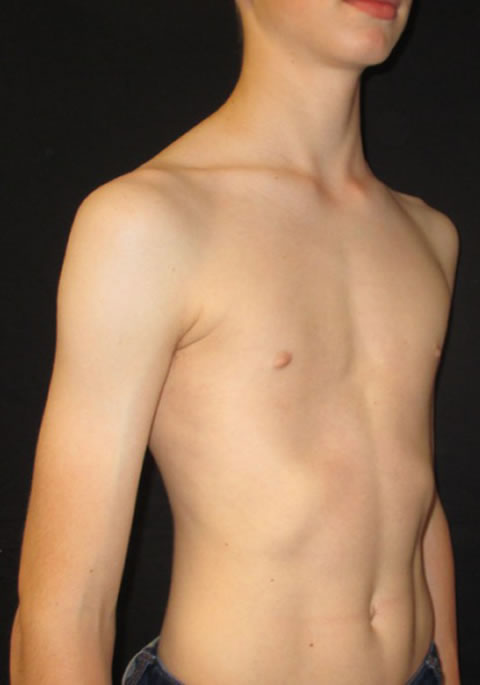 Louis before (to the left) and after (to the right) starting bracing for his severe pectus carinatum deformity. The brace has been worn for 6 months and was being worn only at night time.